December 27th, 2015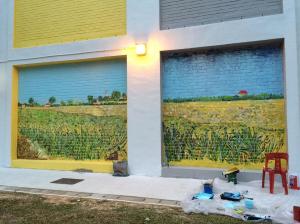 I was pretty excited to be called to do this task of painting a few walls at a housing estate right in one of the heartlands in Singapore. This place is dedicated to Vincent Van Gogh with the impressionist theme. This was one of few images that I selected and improvised it a little as I do not go for realism. I wanted to portray a bright and cheery landscape as residents walk by each day to and from work, the marketplace or anywhere they are going and coming home from. I was happy when the policeman whose office was just next door commented kindly that the piece was nice to look at. As I was working, a taxi driver stopped and view it for a while. I got connected to a few people during my work there which lasted two weekends for this wall.

I was so glad that Vincent was honored in this part of my country and in this neighborhood. Alongside with this wall are other smaller ones that adorn the walkways in this estate with Vincent's other paintings done by the community.

I am honored to be a part of this awesome project and will not forget my humble beginnings as an artist.
Thank you for following me in my journey. I shall endeavor to share more of my art walks with you where they are found.